Personal
Per·son·al: of, pertaining to, or coming as from a particular person; individual; private; Concerning a particular person and his or her private business, interests, or activities; intimate. Posts in this category pertain to things happening in my personal life.
2011
Sun
24
Apr
Filed in Personal
The St. Louis Good Friday tornado ended up being a rather close call for us. The storm track is in red; our location is in yellow:
Unlike the 2010 Saint Ann tornado, this one did major damage in the area. Thankfully for us, though, the worst thing we suffered was a 12-hour power outage.
2011
Fri
04
Feb
Filed in Personal
Oh, rutabaga, where have you been my whole (low-carb) life?
I have been a dedicated low-carber for over a decade. While I could go the rest of my life without eating another dessert or drinking another soft drink, my meat-and-potatoes farm-community up-bringing often leaves me missing starch-laden foods of my youth, such as fried potatoes and biscuits and gravy. In fact, when I decide to splurge, it is almost alway with one of these two foods. In over ten years of living low-carb, I had never found a suitable, low-carb replacement for crispy potatoes fried in bacon grease.
Enter the rutabaga: humble root vegetable, that also happens to be incredibly low in carbohydrate (under half the net carbohydrate content of a potato). While not a strictly low-carb food, it makes for a great option for the occasional potato fix.
Apparently, the rutabaga has fallen out of popular use, due to its reputation as famine food during World War II. How unfortunate. As it turns out, the rutabaga is basically just as easy to work with as the potato, and makes an equally good accompaniment as the potato when fried.
Here are the results of tonight's experiment with making fried rutabaga.
The rutabaga is at first a somewhat unusual-looking vegetable, but is actually easier to peel than a potato:
Once peeled, rutabaga is considerably more difficult to cut through than a potato; however, once I quartered the rutabaga, the mandolin made quick work of slicing:
I initially fried a small batch (1/2 rutabaga) of potato chip-thin slices, to get a feel for the texture and taste of fried rutabaga.
Having discovered that rutabaga fries essentially the same as potato, we were pleasantly surprised further to discover the mild, natural sweetness of rutabaga that - especially when crispy-fried - pairs in a rather addictive manner with a little salt and pepper.
Finding the trial run successful, I set the mandolin to one setting thicker, sliced another whole rutabaga, and fried the whole batch in bacon grease, as before.
This batch definitely took longer to cook than the potato chip-thin slices, but still barely took longer than the time required to broil pork chops.
The pork chops and fried rutabaga (garnished with a few bits of crumbled bacon), combined with some Brussels sprouts "slaw" (steamed Brussels sprouts, core removed, mashed/quick chopped, with butter, Parmesan cheese, and a few drops of lemon juice) made for a tasty and - and unexpectedly filling - meal.
(I actually was unable to finish the entire plate.)
Next up: rutabaga chips in the deep fryer, rutabaga soup (using my secret family potato soup recipe), and roast with rutabaga.
This past Saturday afternoon (while my parents were visiting from Indiana, no less!), I live-tweeted our tornado-warning adventure (see here, here, here, and here). The storm was really fast-moving, and came and went in about 30 minutes.
At the time, we were aware of a confirmed tornado about 8 miles from our house, at/near the West County mall in Des Peres. However, it has now been confirmed that the storm spun off a second tornado - one whose path came within about 1/3 of a mile from our house!
Below is the damage-path of the Saint Ann tornado:
Fortunately, it appears that the tornado was dying out by the time it was nearest to us - but someone tell my Dad that next time, he should stay in the basement instead of going outside to see the storm!
The local Channel 12 news in Cincinnati ran a story last night, talking to the family about Baby Steph and Eric, who were killed in a car crash yesterday morning:
As you can imagine (and see), the family are devastated.
I took my wife and girls to Indianapolis yesterday, so that my parents could watch the girls, so that my wife can help with the family for the week and attend the funeral, which will be held this Friday.
This one is for my Mom, who is at St. Vincent's Hospital in Indianapolis, recovering from a minor heart attack and having a stent put in.
In tonight's Colts Chat, hosted weekly by Indy Star Colts beat reporter Phil B., Mom got a shout-out and love from my fellow Colts fans: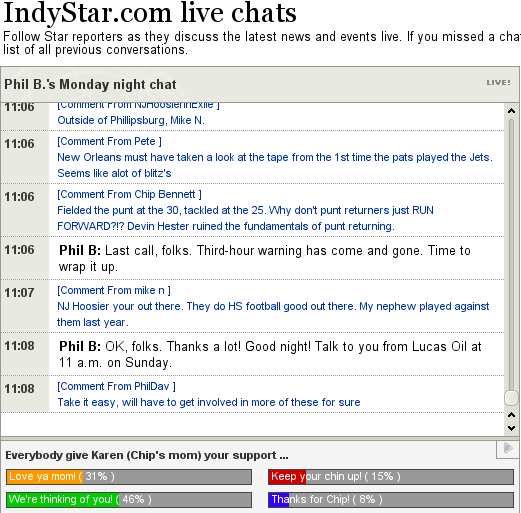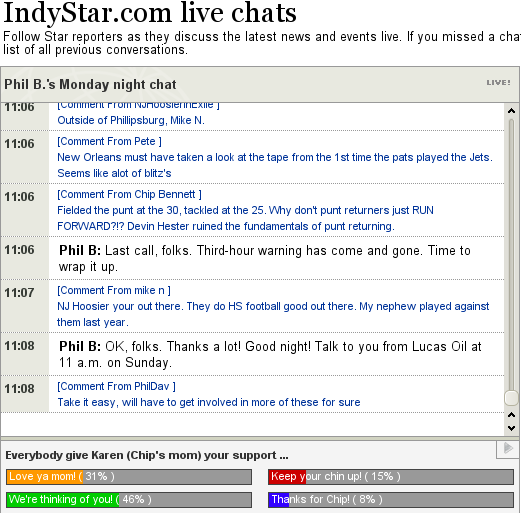 Thanks, Phil B., and Colts fans. We appreciate your love and support! Colts fans are good people!
Just a quick note to let everyone know that Karen's WebNursery is now online. We should have birth announcements and pictures in the mail to everyone in about two weeks.
This morning, at 8:09, we welcomed into the world Karen Elizabeth Bennett:
She was born via c-section at 8:09am; she weighed 6lbs, 10oz, and was 20" long. Both baby and mommy are doing well, and are recovering.
Nana and Papaw brought her Big Sister Lily to the hospital to meet her this afternoon. We'll have more pictures up soon.
My normal route home from work takes me right by the airport. It's not unusual to see planes taking off or landing.
However, it is quite unusual to see the following aircraft a mere 50-100 feet off the ground, on an approach:
The plane touched down on Runway 11-29 right next to I-70, right before I exited onto Cypress.
A Boeing 747 painted in light blue with the words "United States of America" on the fuselage is pretty unmistakable; still, I hadn't heard anything about President Bush making any appearances in Missouri today. I thought perhaps it could have been picking up some dignitaries from last night's VP candidate debate.
As it turns out, it was President Bush, after all.